22 July 2017
Third time *is* the charm
by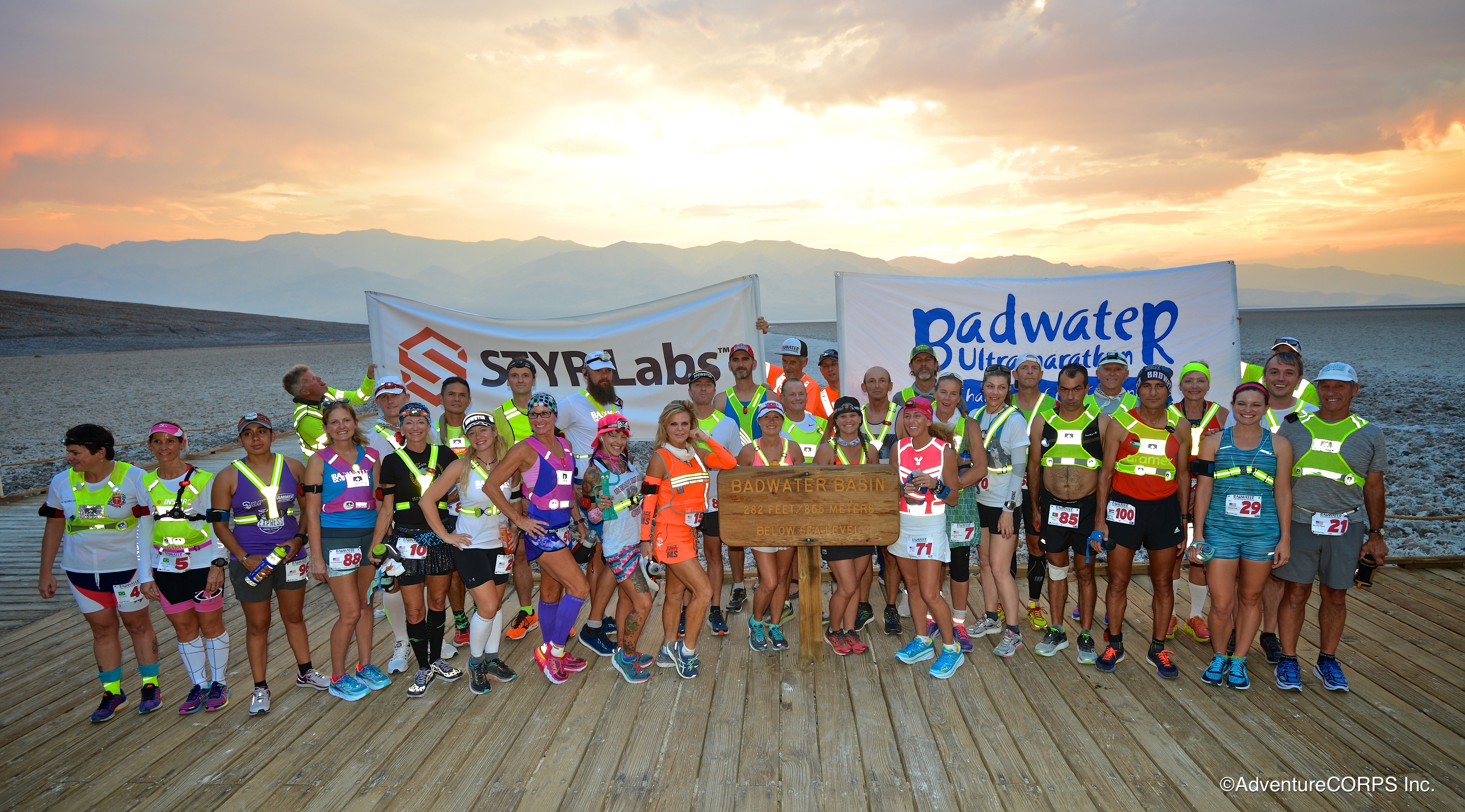 First start wave posing for the camera.
We're sent off and I start walking. At least for 1/4 of a mile I think. Talk a bit with Marshall about what lies ahead of us, "It'll be fun" I say "eeeh" he says with a wry smile. I keep the power walking going in all the uphills, fight the urge to run them. Thinking that this power walking training will come very handy once we hit the brutal Townes pass and Father Crowley climbs. My plan to practice power walking before the race never happened. My walk is usually more of a crawl, speedwise. Doing the run/walk and really focusing on not going to fast really made the first part of the race enjoyable and fun, finally having some fun in Death Valley! Third time really is the charm I kept thinking. When we got to the Sand Dunes Oswaldo came flying by, I didn't even recognize him. He was just a blur. This was at around mile 42 and they started 3 hours after my start wave. When I reached Stovepipe wells Harvey Lewis caught up with me and we had a quick chat. He had struggled a bit but was looking forward to the climb, probably the only one.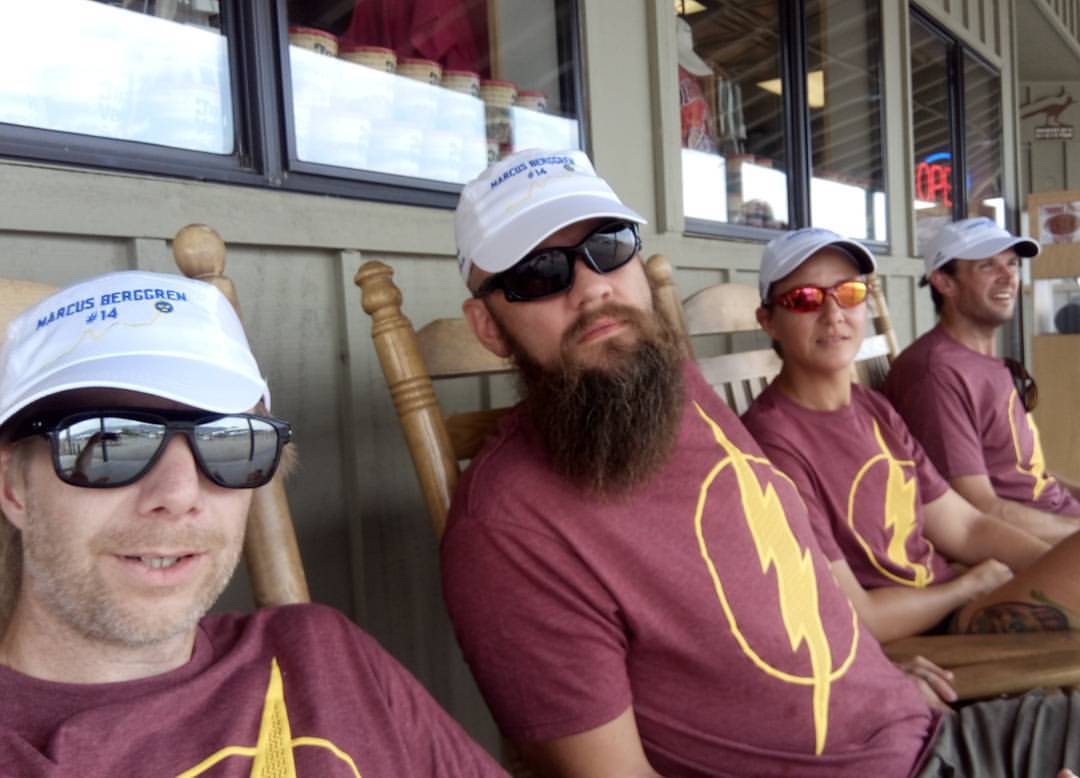 Team after checking in at Stovepipe Wells day before the race.
As for team #14 we took a longer break in Stovepipe. The plan was for Jonathan to walk with me up Townes pass since he is a very fast walker. At this point I was anything but. The training I did 40 miles back didn't seem to have stuck. Everything started to suck. It is after all an absolutely horrible climb. That attitude doesn't help much, neither does thinking about how far it is to the finish from there. Going into this years Badwater I had really tried to get my knee injuries sorted out, so much so that I only had trained running for 6 weeks. After a 6 month hiatus. Some Grunts can just role of a mountain and knock out a top ten placement without really training before it. Not me. My problem was that I couldn't get my mind to focus on something else than the pain and suffering. The grueling long back to back training runs conditions the mind as much as the body. I lacked that grit.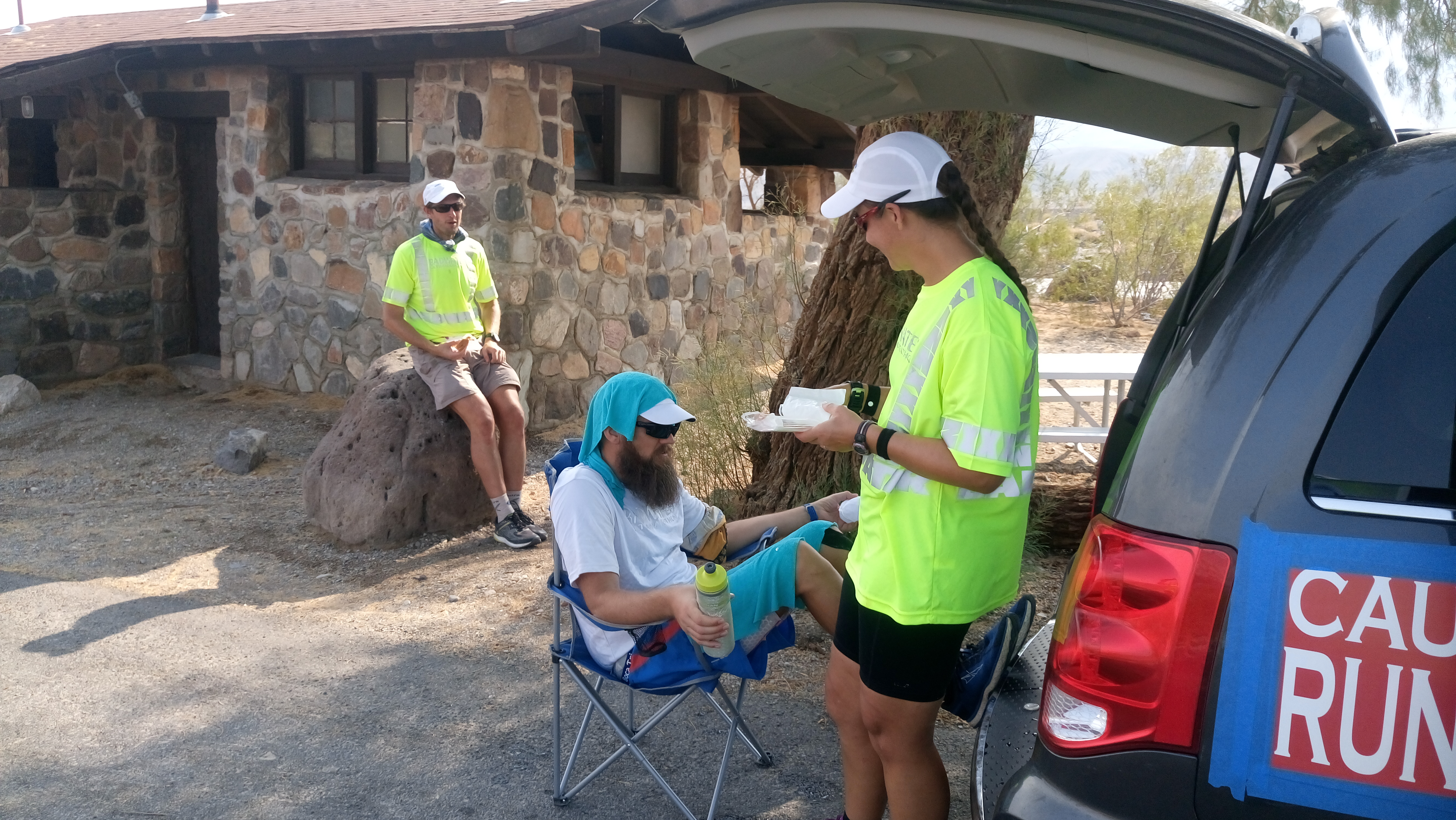 Cooling down at Townes pass.
We eventually made it up to the top of Townes pass after all the tricky false tops. We switched pacer to Henrik to follow me down for the third year. Somewhere on the downhill I finally had to acknowledge the infanterield/chub rub and start applying creams and whatnots to the secret area. As soon as I dropped my pants Bob Becker showed up. He couldn't stay for long as he was pacing his runner down the mountain. Which was good, I felt a little bit uncomfortable with the legend there with my pants around my ankles.
We eventually made it down to the Panamint Valley were Ashley took over the pacing duties. It goes downhill for awhile before turning into an uphill into Panamint Springs. In that downhill I looked over my shoulder and saw that she was walking. Which didn't make much sense. Later I have been told that Henrik walked behind be as I "ran" down Townes pass. They didn't want to say anything because they thought my knees hurt to much and they didn't want me to think of that pain anymore than they thought I already did. The knees did in fact not hurt much at all. Probably because I was moving so slow. I had no idea I did though. My subconscious slowed me down to a crawl and the conscious me had no idea. In the Panamint Valley one of the highlights of the race happened. The Panamint Valley is one of three valleys in death Valley that the USAF practice low level flying. We reached it late in the day and we were starting to fear that we wouldn't get buzzed by them this year. As it were, a pair of F18s buzzed us at ~500ft. We waved to the second one which waved back as it flew over us. Nothing like getting waved at by a fighter jet 70 miles into the toughest footrace on earth. Go USAF!!!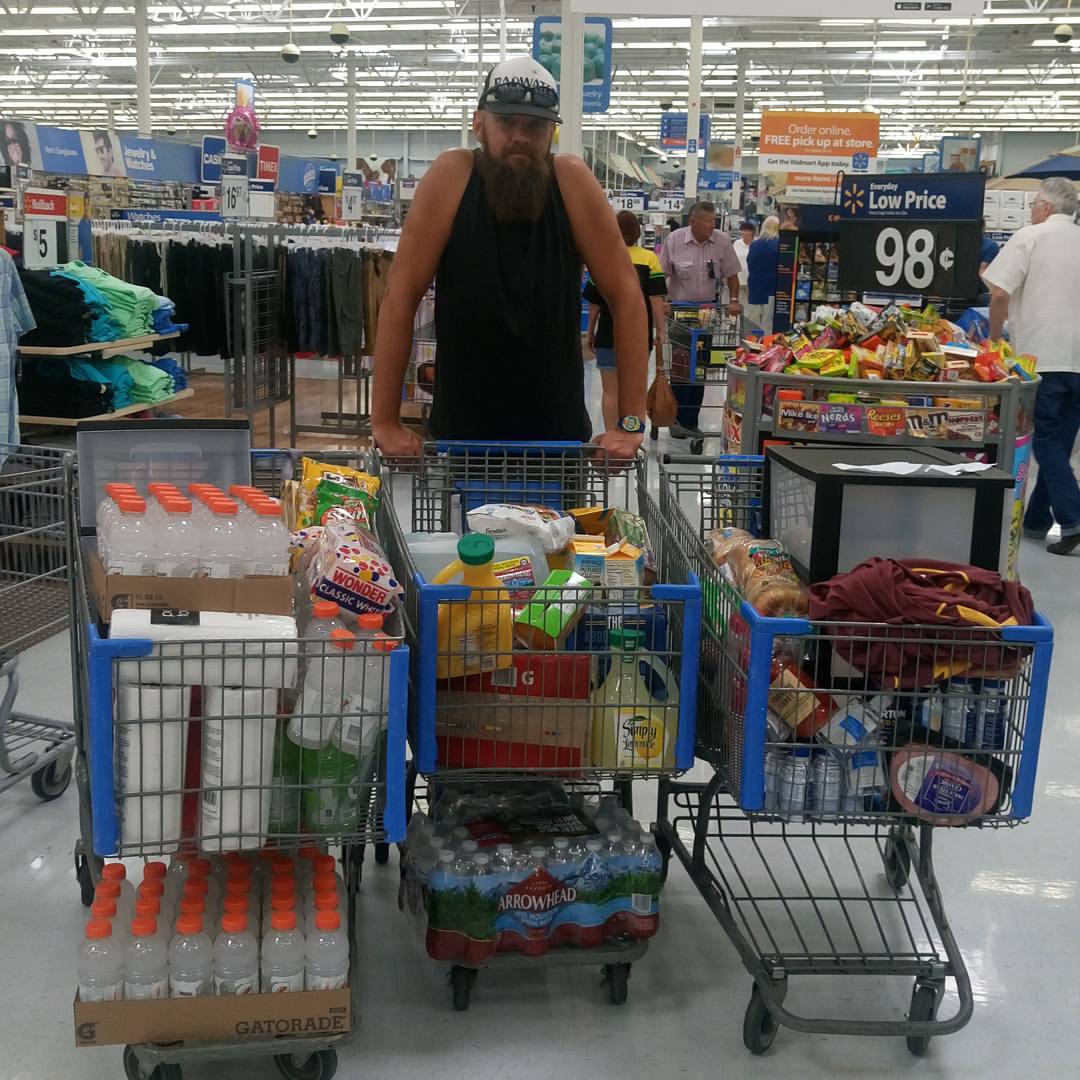 Packed shopping carts.
When we reached Panamint Springs they were out of ice, one of the perks of being at the tail end of the race. It was decided that the van would go to Lone Pine to stock up while me and Ashley took a longer hamburger and foot care stop. We loaded up the mule and headed up Father Crowley were Henrik and Jonathan met up with the van at the second designated stop. Somewhere on the climb I got really annoyed with the crew when I was told that I would have to speed up if we were going to make the cut offs. Before I had heard that we had so much time I could crawl. An effect of the incredibly slow downhill of which I still had no idea. I didn't speed up much since we were still climbing. Also I figured that at some point I would have to run to make the cut off, to finally accept the pain and the suck that I was still stuck in. Running procrastination.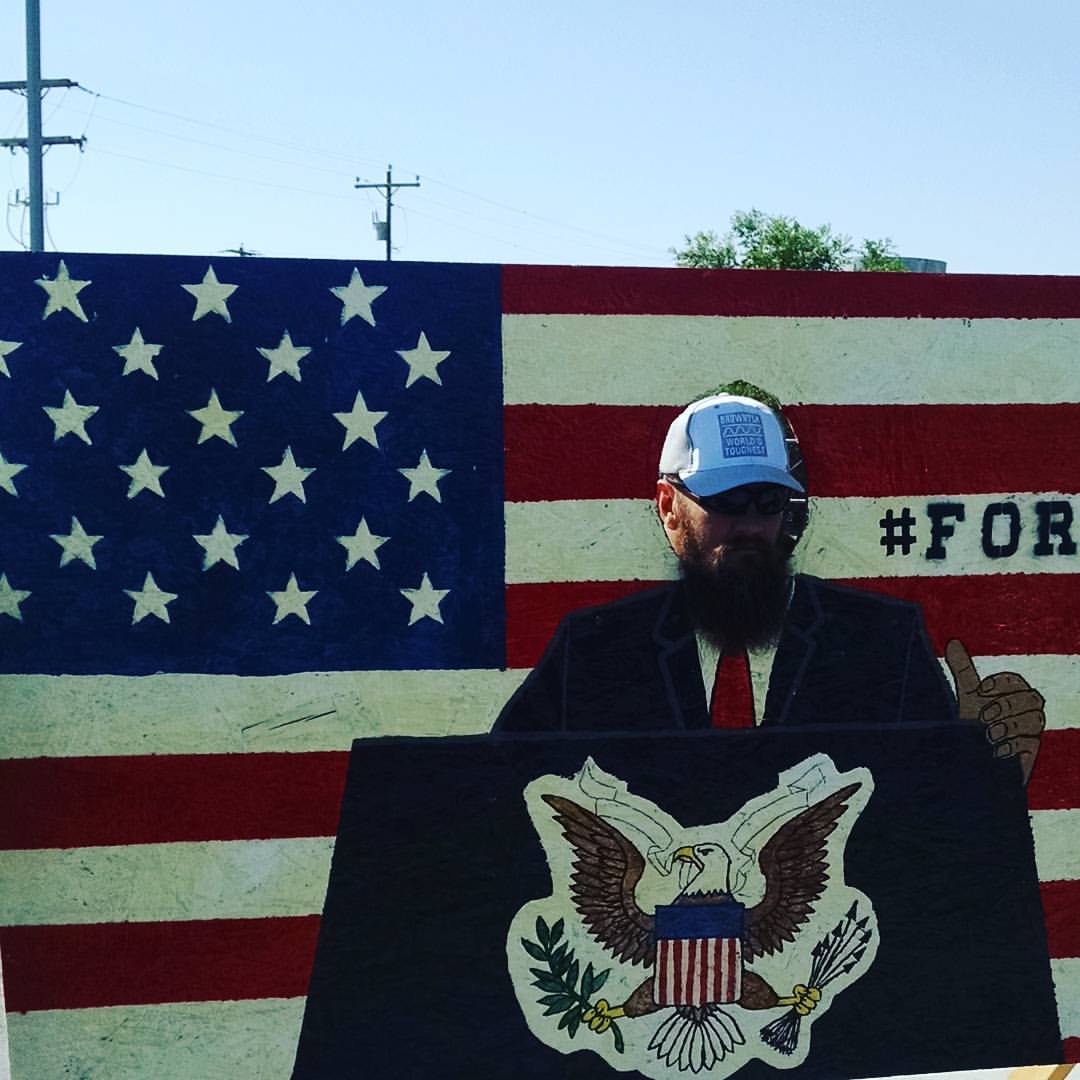 #14 for President!
At the top of father Crowley I asked to be left alone with Spotify to try to get back into the game. This was a horrible stretch of road. The mind is such a fragile thing. Eventually after looking at the Disney figurines by the side of the road for hours on end, the rest of the landscape started turning into all kinds of weird things and I couldn't stay on the side of the road anymore. I could barely stay upright. When I got to the car and stated that I was going to sleep for awhile I got a lot of 'springer du inte sâ hinner du inte' comments thrown in my face. Eventually I got 15 minutes of rest. Funny thing is when I got out of the van with Henrik tagging along again, nothing hurt. This was by or close to the 26 miles to Lone Pine sign. I have often said and thought that one should always be able to knock out a marathon. So I decided to. I didn't dare tell Henrik who said that we should run to the next pole (by the side of the road). I'll show you the next pole I thought and just like that it was fun to move again. It wasn't fast or pretty but we moved. The van leap frogged us a mile at a time, we usually waved it away at the mile mark and refilled at the 2nd mile. Every 5 mile was fika while sitting down. The half-marathon went by and Jonathan took over the pacing bib for the second half going into Lone Pine. It was a dangerous idea to run it like that with having Lone Pine as a goal. In Lone Pine you are still very far from the actual finish. It might only be 13 miles but they are tough in and by themselves at the end of 135 miles they are brutal.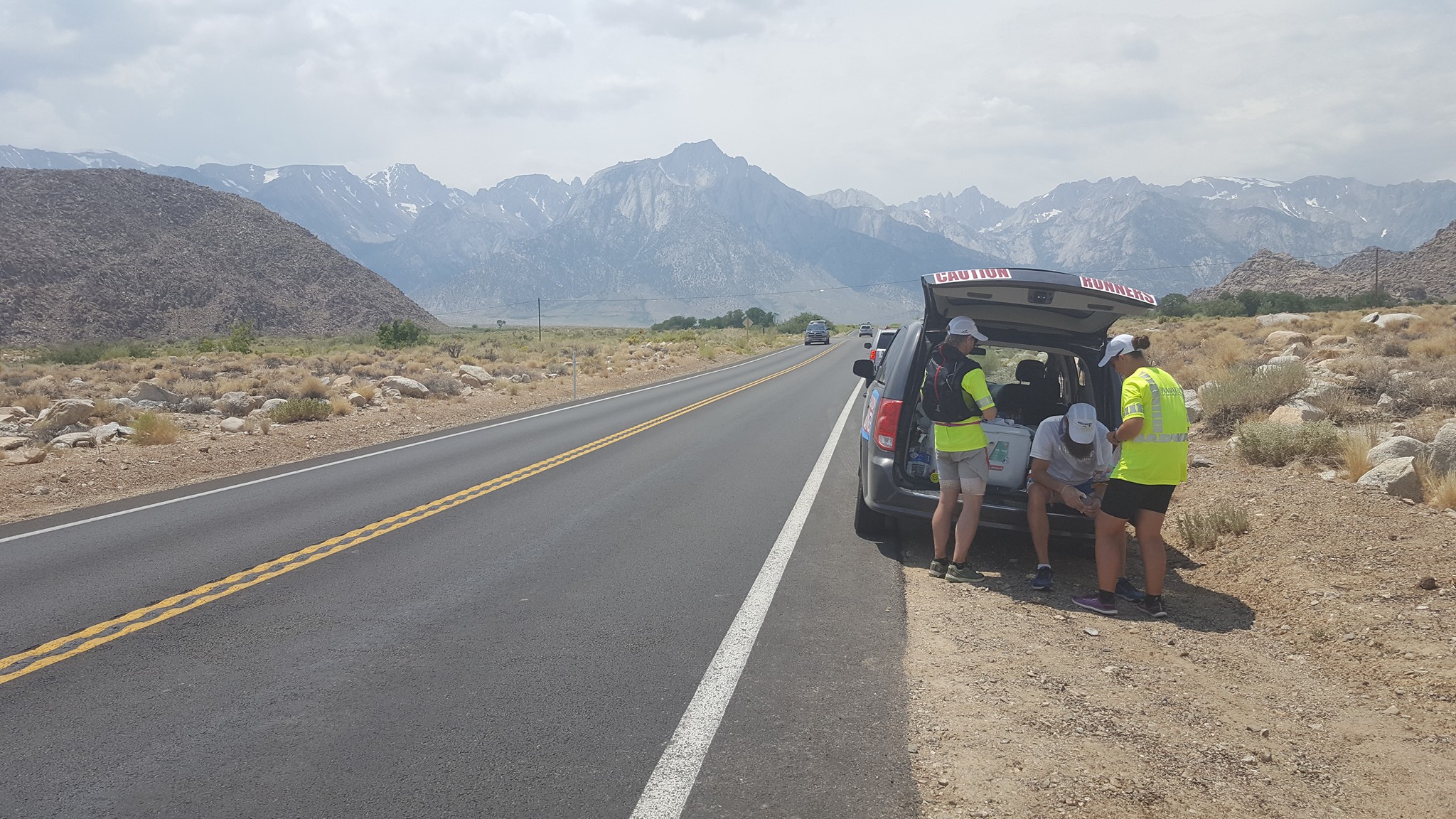 Fika.
We took our time in Lone Pine. Resting a bit. Got my feet looked over for the second time, poor woman. I hope she's recovered. Eventually we had to leave to get 'er done. Started out running but eventually the walking took over. As tradition states Ashley took me up the mountain where I hooked her two years prior.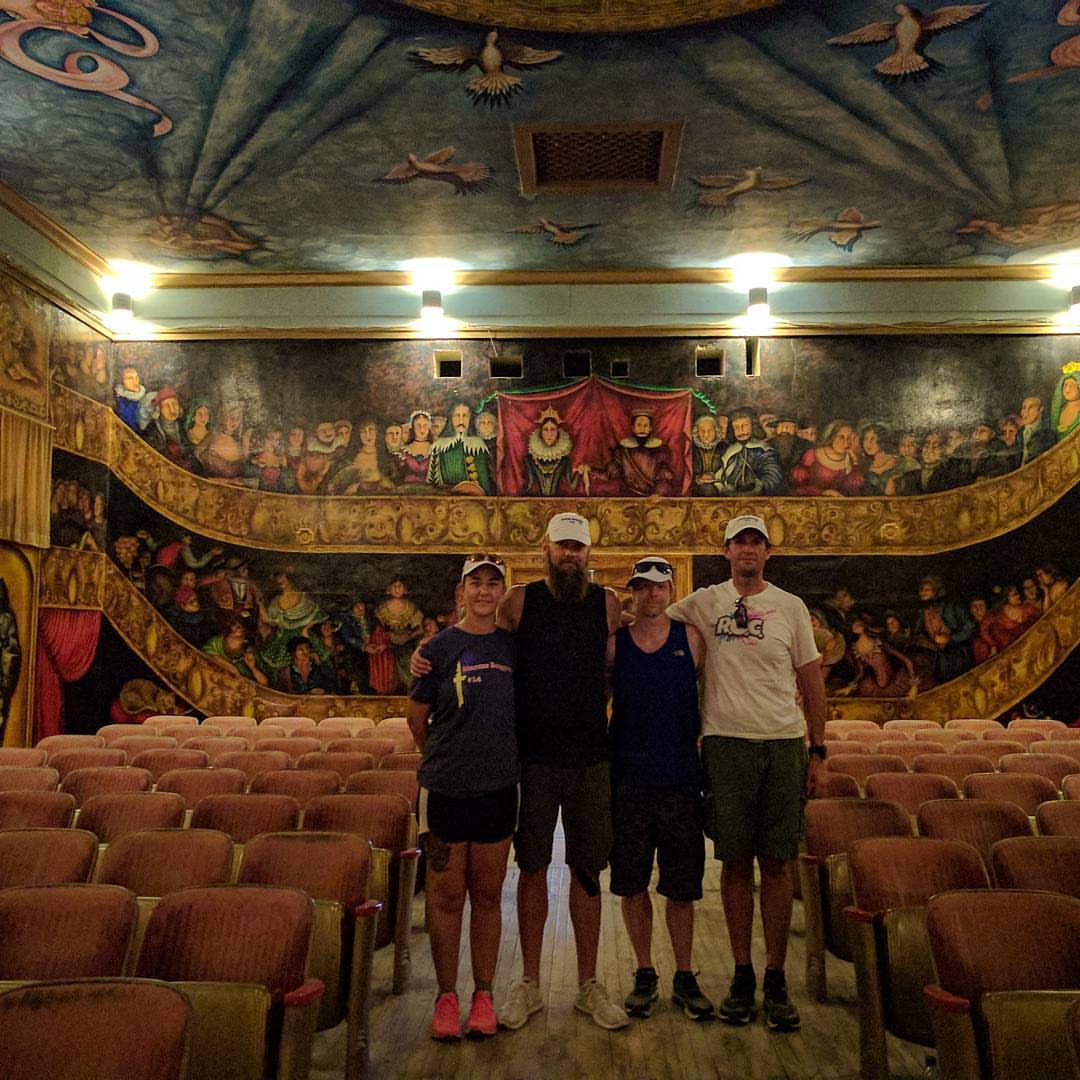 The team taking the tour at Amargosa Opera House.
The finish was very emotional, it always is, but more so this year because I finally had a good time out there and as usual knowing that I wouldn't make it but somehow we did. It doesn't matter if you're at the front, in the middle, or one of the last. You will have to dig as deep as you can and then some in order to be able to finish. That's just the way it is and that's why we do it and why we keep doing it. Because it is there at the edge and beyond of your limits that you get to know what you are made of and show yourself that you indeed are tougher than that.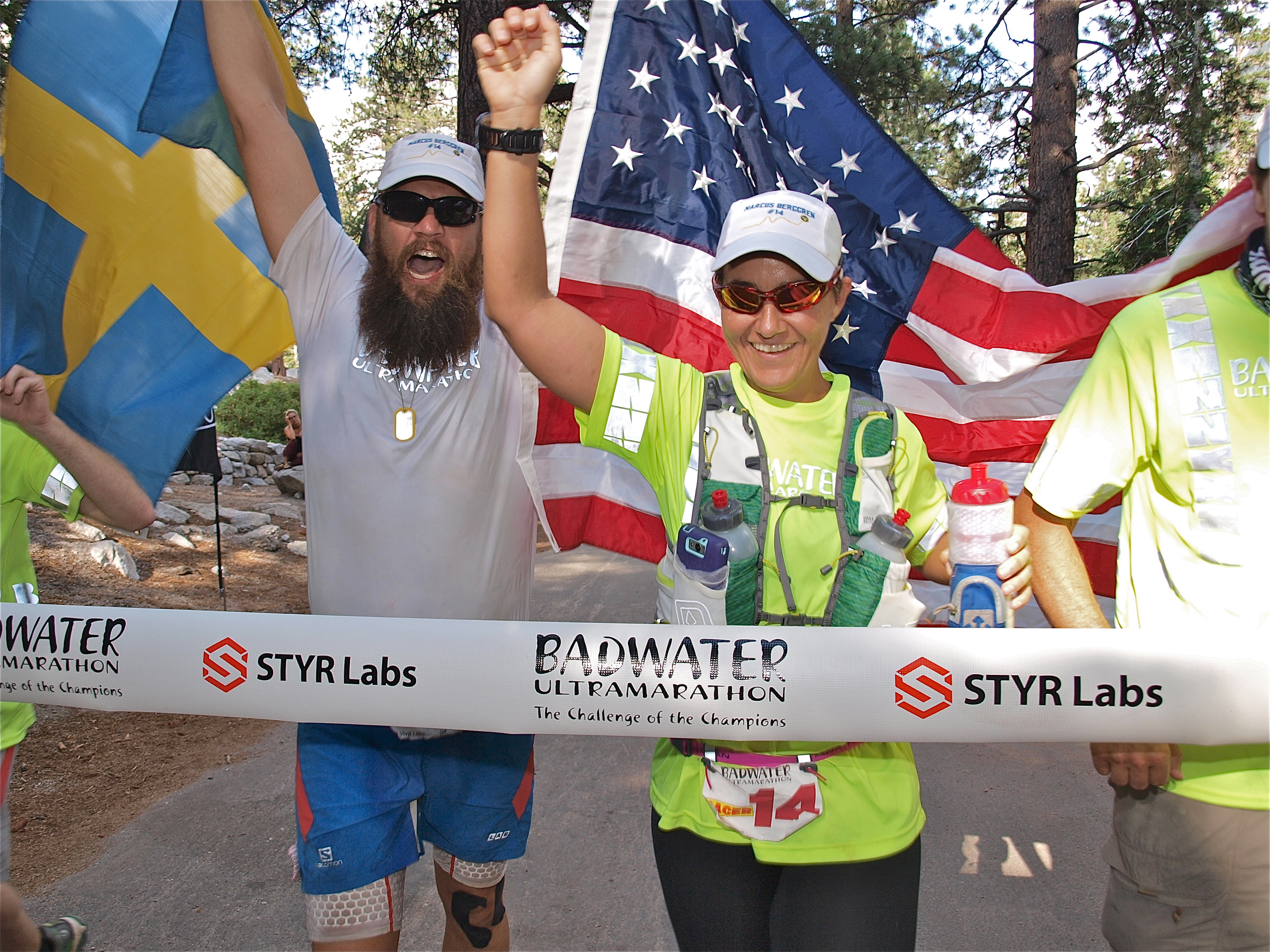 Screaming finish.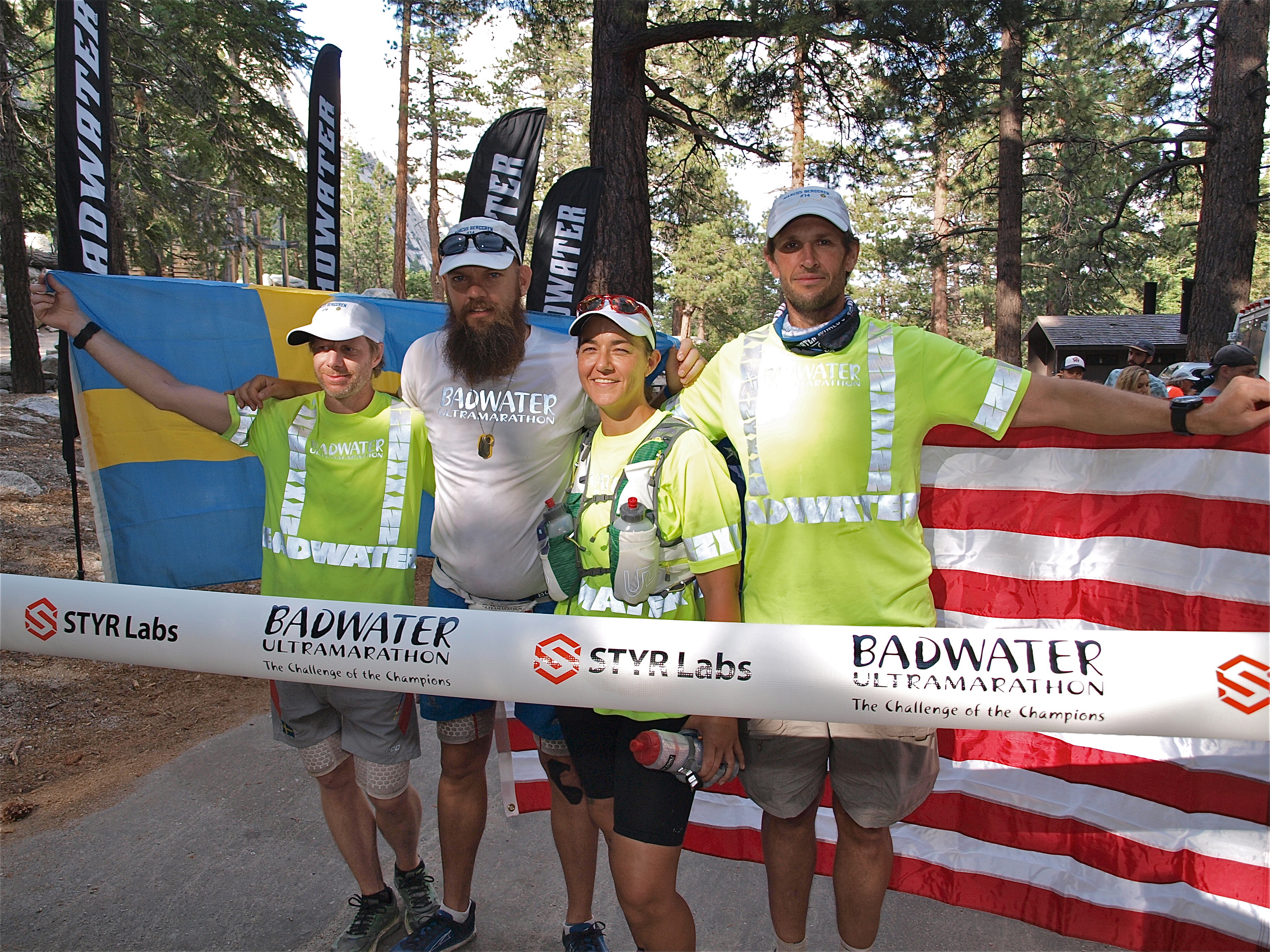 Faking the finish line crossing.
Some stats:
Weight at start: 214 lbs (2015 - 192 lbs, 2016 - 194 lbs)
Amount of Gatorade drunk: 6 1/4 Gallons (~23.5 liters)
Saltgrogs devoured: 14
String cheese pieces eaten: 0
Ensures had: 10
Hamburgers eaten: 1
Weight at end: Unknown, from looking at pictures about 2x the start weight.
40 seconds squats performed: 43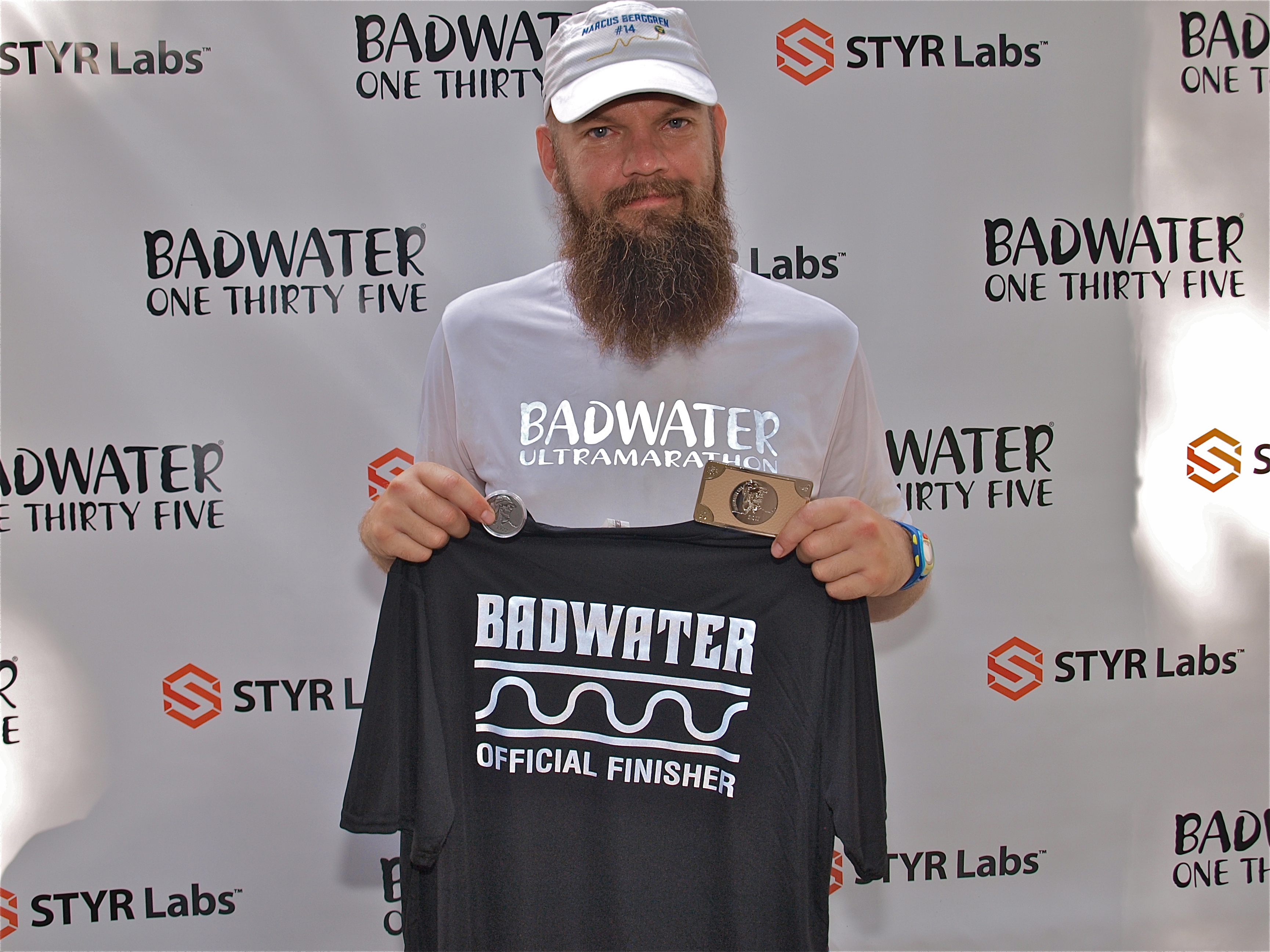 Swollen hands holding swag

tags: